It's over.
TV season is pretty much over. And now that the stampede of shocking (Vampire Diaries), joyous (How I Met Your Mother), hilarious (Community), and tearful (Glee) season finales that have been washing over me for the past couple of weeks has finally begun to subside, only one question really remains: WTF am I going to watch all summer?
Oh sure, there are a few summer season shows that are worth a gander, but why wait in boredom from week to week when there is a whole world of streamable entertainment right at your fingertips? I long since gave up bothering with the physical main-in DVD service that Netflix once made its name on. Streaming is what it's all about, and I'm here to share a few of my favorite finds with you all. I consider these gems that, without Netflix or some other sort of video-streaming service (I hear Amazon's is getting pretty good these days!), I would probably never have uncovered. The following selection is pretty varied in terms of target demographic and genre, so hopefully there's a little something new for everyone.
I feel it's apt to note here that I'm not like, a Netflix ambassador or anything. I just thought this would be a fun post to do. Hokay! Here we go!
The Vampire Diaries
I know, I know. I just had to get it out of the way first. Vampire Diaries isn't REALLY part of this list, since it's still fairly new, you guys have all probably heard of it, and there's a ton of hype surrounding it (deservedly so!). Only, it IS on the list, in that it's part of every list of anything I ever recommend to anyone, ever. The first two seasons of the show are available on Netflix, and now that Season 3 is over (OMGAHHHHH), I'm sure it won't be long 'til it's added to the queue as well.
General early plot goes like this: Welcome to Mystic Falls, VA, a tiny and historic southern town that has more than its fair share of garden parties, cotillions, and "animal attacks". Follow abnormally gorgeous human Elena Gilbert as she struggles through her love for not one, but two panty-droppingly gorgeous vampire brothers. Of course, after about four episodes, you start to realize that there is so, so much more to it than that.
I know I've said this before, I'll say it again: this show is NOTHING like Twilight. It's barely even like the books that it's based off of (thank goodness, haha). Just watch it, okay? You can thank me later.
Doctor Who
Sean and I started watching this show together after we started dating, and we've already flown through the first four seasons. This 2005 version is a straight continuation of the original series that began back in the early 60s. I'd heard a lot about how good it is, but was skeptical and had it sitting in my Instant Queue for a long time. Finally, Sean expressed interest in starting it up so I bit the bullet. I've never looked back. It is truly engrossing stuff: funny but surprisingly dark, full of intellect and glorious British wit.
I don't think I really need to describe the premise but the basic one is this: The Doctor is a time traveling alien adventurer (say that 10 times fast!) who, along with his various companions, frequently saves Earth and the universe from general mayhem and destruction. You'll have to look past the terrible production value of the first season (when their budget was obviously rather thin), but if you can make it through that, you'll get to see what the Doctor and his "blue box" really have in store.
Archer
How do I even begin to describe Archer? It is rip-roaringly hilarious, totally inappropriate, borderline offensive, and absolutely genius. It's an animated show set in an ambiguous time frame (clothes and setting seem to place it sometime in the 60s, but they often make modern-day pop culture reference and utilize current technology) about an independent spy agency called ISIS. It stars Sterling Archer as the titular character, a womanizing boozehound who is somehow incompetently the best spy in the world. ISIS is run by his alcoholic, smothering mother Mallory, and employs his kickass ex-girlfriend Lana, amongst other hilarious supporting characters.
The voice cast is really pretty amazing. H. Jon Benjamin (you'd recognize his voice) plays Archer, Jessica Walters (Lucille from Arrested Development) plays his mother, Aisha Tyler plays Lana, and Chris Parnell and Judy Greer play fellow ISIS employees. If you're at all a fan of shows like Arrested Development, It's Always Sunny in Philadelphia, or the like, in which the main characters are all thoroughly terrible people but still somehow sidesplittingly hilarious, you'll like Archer.
Lost in Austen
Any girl who loves herself some Jane Austen, period romances, or romances in general, will LOVE this show. Well, actually, this isn't really a show, per se. It was a miniseries that broadcast on BBC, and on Netflix it's all compounded together into one 3-hour long block. I devoured it in a single sitting the first time, and have re-watched it at least three times since. It's just so romantic, so clever, and so much FUN.
The story follows modern-day Londoner Amanda Price, an avid Jane Austen fan who is obviously unsatisfied with her life. She magically gets transported into the world of Jane Austen's Pride & Prejudice right at the beginning of the book, essentially swapping places with Elizabeth Bennett. You do have to be at least slightly well-versed with the story of P&P to fully understand everything that happens, but the premise really works and the music, staging, and costuming is all very well-done for a TV miniseries. It draws of parallels to the Keira Knightley P&P film (which was mentioned back on my Favorite Movies post, if you remember).
Battlestar Galactica
The summer after my Freshman year of college, my brother and I sat down to watch the first episode of Battlestar Galactica, a remake of the campy 1980s sci-fi show. We had heard good things about it, but hadn't had a chance to see it yet. Well, within two weeks we had blown through the first two seasons. It. Is. Fantastic.
Back when it was still on the air, it drew nonstop praise from critics that, despite it airing on SciFi, it held up to Lost, 24, and all the other mainstream hit dramas on TV. There are only four seasons in total, and while I think it's fair to say that the first two seasons are really where it struck gold, the show as a whole is just fantastic. For a television show, it brought to light a lot of really deep concepts, tackling things like war, religion, survival, and the basic tenant of what it means to be human. It's not only a spectacularly done show, but it's… moving, you know?
I really don't want to spoil anything for those of you who might watch it, so I'll just recommend that you all watch the miniseries, which introduces most of the major characters and general plot, before you watch the very first episode of the actual show (which is entitled "33 Minutes"). The miniseries is much more slow-moving than the show itself, so don't be discouraged by it. It just sets everything up really perfectly, IMO.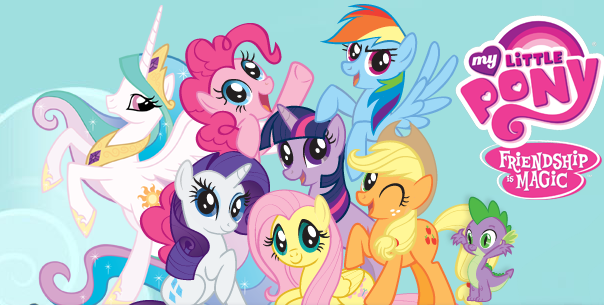 My Little Pony: Friendship is Magic
As if I would end with anything else. It's official, you guys. I'm a total, full-fledged Brony. Or, you know, whatever the girl-version is. I was a fan of the 90s version of My Little Pony (you know, back when it was age-appropriate for me, haha), but you can blame my boyfriend for even introducing me to the current concept of MLP: FIM. He didn't ask me to watch the show, he didn't watch it himself, all he did was mention that this subculture of twenty-something guys and gals who were totally obsessed with it. And with that knowledge alone, I knew I had to check it out.
You guys. It is so fracking adorable. I can't even. Yes, it is a show that was originally targeted at five- to eight-year-old girls. But there are so many references, characters, and animation elements that are clearly meant for those of us who are just slightly older than the show's target demographic. (There's a character named Doctor Whooves, for crying out loud!) The animation is flippin' cute, but it's more than that. The show is just so sincere, it's not super weird like most kids shows are today. It's refreshing! And the songs that are included in occasional episodes are damn catchy, too. It took me like, one week to catch up on both seasons that have aired so far. Perhaps I've lost credibility with 80% of you after posting about My Little Pony with such fervant adoration, but I don't even curr. It's glorious. GLORIOUS I SAY!

(source)
So there we are. Six vastly different, but equally enjoyable streaming-ready things for you to enjoy… or not! Have a fantastic weekend, everyponybody!
Do any of you have recommendations for TV shows/movies/miniseries that I should catch on the 'Flix?
PS: Episode 2 of the RTB video is up, and it feature a ton of me and my super attractive tomato-red face! For your viewing pleasure: