First things first, let me take a hot sec to say CONGRATULATIONS to my friend Holly, who got married yesterday! I unfortunately couldn't go back to Ottawa to attend the wedding, but hopefully she felt the good vibes I was sending her way all yesterday. 🙂
But okay, back to us non-married folk. Traditionally (er, in college), Thursday were known as a pretty hoppin' night of the week. It would give Friday a run for its money. And since I'll be spending the majority of tonight quivering in fear at the thought of tomorrow's 15K race, I coerced my roommate into doing something fun last night instead!
And what are two gals-about-town to do on a Thursday night?
Why, head to the Museum of Natural History for food, wine, and an awesome exhibit, of course! I felt so classy, getting all dolled up for a nighttime viewing of the new deep sea-inspired light installation exhibit, "The Bright Beneath". When my dad suggested this event to me (it's part of the Smithsonian's "Mingle at the Museum" series), my roommate Erin and I took one look at each other before declaring that these are exactly the kinds of grown up events we are dying to take part in!
After a bit of a Metro adventure (aren't they all?) and a museum mix-up (NATURAL history, not AMERICAN history, Gretchen!) we made our way there. I was so excited at the prospect of getting to tour a museum after hours! It felt very elite, hahaha.
We got to walk around the entire Oceans section of the museum, which the exhibit was part of (the other areas were unfortunately, but understandably, closed off). There were only maybe 40 or 50 people in attendance at the event, so it was very private. As Erin pointed out while we were there, it was extra awesome getting to check out all the displays without worrying about running over (or being run over by) little kids.
The event also had little carts set up where we got to talk to field experts about various ocean life and bioluminescence-related things. One of the carts had a (dead) anglerfish for us to check out. Remember what that is?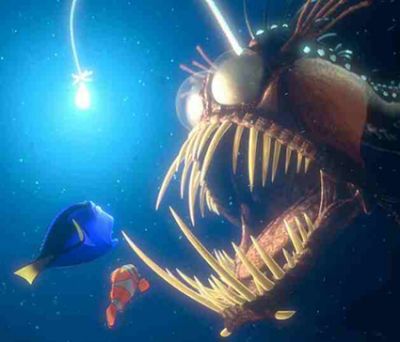 Yep, it's the huge scary deep-sea fish monster from Finding Nemo! Well, as it turns out…
In real life? Not so huge. I think they did some serious proportion-tweaking for the sake of the movie, haha. But admittedly, it was still pretty scary. And pretty cool. There really was something for everyone at this event, including specially-themed noms!
Bahahahaha. Just kidding. The food was not weird, not themed, but still delicious.
There was a selection of apps, which included mini chicken cordon bleu bites and an awesome saffron (!) shrimp cocktail, as well as mini cupcakes. Erin got a carrot cake one while I opted for a red velvet. I also got one of their specialty cocktails (a drink ticket was included with admission to the event), which had orange juice, ginger-flavored vodka, and sparkling wine. Delicious!
In the same room where they were serving the food and drinks, they had this crazy plastic bag snake-tube thing. We got there too late to hear the schpiel on exactly what it was supposed to represent, but it didn't take long to figure out how much fun it was!
A little too much fun, perhaps. What was all that about feeling all classy and grown up? Keke.
On to the main event: the actual exhibit we were there to see!
The artist constructed these awesome mechanical, moving light installations that were equipped with plastic bag "tentacles" to represent the kinds of creatures that are found at deep sea level. The lights simulated the bioluminescence that those creatures use — like in the lure of the anglerfish above!
The installations spun and rotated as they hung from the ceiling, and displayed different colors and light patterns. They were really very neat! Though the ones that had digital eyes as part of their video display were a little bit creepy. Didn't get really any photos of those though… possibly on purpose.
I would say that it definitely qualified as a fun and unique way to spend my Thursday. For those of you in the area, I definitely recommend getting down to the Natural History Museum and checking out the exhibit! It runs until January 8th. And, in case you needed a reminder, it's FREEEEE! Gotta love that Smithsonian!
What's your favorite kind of museum? Erin is a self-proclaimed lover of art museums (bo-ring!), while I'm an Air & Space gal all the way. Last night's visit only confirmed that I need to revisit the Natural History museum though. Another thing to add to the list!