I know that this is like, the ultimate white girl problem, but I really struggle with working out.
I've just… never really liked it. I didn't grow up in a super active family, I was never very athletic and don't have great physical coordination. I don't love getting sweaty, and I hate being obligated to shower (especially with my various hair colors, where it's important not to wash my hair too frequently.) Working out is not something I've ever been able to easily work into my routine (primarily because I never tried that hard to work it into my routine, but I digress), and it's not something I'm used to doing on a daily basis.
But, as you are aware, I'm trying to turn over a new leaf and really shift my health and weight loss efforts to have a major emphasis on fitness.
Which, you know, means I actually have to work out.
And, amazingly enough, I am! Frankly, I'm pretty impressed with myself for simply being able to say that I'm two weeks in to this daily working out thing and I haven't missed one yet! Given that I'm pretty sure I could win the Guinness World Record for World's Laziest Woman, that's a pretty big milestone for me.
But before I give myself too many self-congratulatory pats on the back, I gotta be honest. Because while I did work out yesterday, it was the first day where I almost didn't. I almost skipped my workout, and I almost broke my streak.
Sure, I'm sure I could've mentally justified it if I had gone ahead and skipped out on my gettin' sweaty time. I was tired — I didn't fall asleep until 3 AM the night before.  I had a lot of work stuff on my plate. It was cold and I feel like I'm getting sick and I wanted to take a nap and blah blah blah. Miraculously, I managed to hold steady against all of these built-in excuses and peel myself off the couch long enough to work out… at about 9 PM.
Now, I know, I know, the important thing is that I didn't skip it, that I did do it, even if it was late in the day, even if it was as a last-resort, and I should feel good about that. Except, I didn't really feel good about how the workout went either.
My muscles were heavy, my body was aching, and everything seemed like it took three times as much effort. So I only really made it about halfway through the workout before essentially giving up and just half-assing the rest of the moves.
And I didn't feel so great about that. Which is also kind of a new feeling for me, because who would've known? Who really cares if I don't give my 100% during a workout? It's not like Tony Horton is going to crawl through my TV set to give me what-for. But, as it turns out, I care! Who knew?!
And after giving it a little bit of thought, I think that I came to some important realizations that will probably be good to note as I continue through this journey:
1. Taking a rest day is important.
I didn't take my rest day on Sunday like I was supposed to. I did an extra day of cardio because I had started P90 mid-week, and I wanted to make sure my first week started strong. And as someone who has always had a disproportionate number of rest days over workout days (you know, like, 10:1, ahahaha), I didn't really realize that giving your body a day to recover — even if it doesn't feel like you need to recover — is an important thing.
I think that my body feeling sluggish and my legs feeling heavy and all that stuff is, at least in part, due to me not giving myself enough time to really recover. Not that I'm here running marathons or anything, and hey, maybe when I'm a little bit more fit, I won't really need a full rest day, because my body will be much more used to pushing itself. But at least for now, while things are still new, my body's still adjusting, and my muscles are still being woken up from their long, long slumber, I should keep a closer eye on things and let myself rest if need be.
2. Turns out, fueling your body right matters.
I've never been a huge fan of health lingo. I'd kind of roll my eyes or find my mouth forming a smug little smirk anytime I read references to "fueling the machine" or "feeding the temple." I mean, it's just EATING, right?! Well, maybe it's not, exactly.
Turns out that if you are trying to lead a more active lifestyle, these terms start to take on a little more meaning. The timing of when you eat really does impact how energized you feel — i.e. "You gotta fill the tank before going for a drive!" (LOL eyeroll.) I used to go most of the day without eating, and would only finally eat my first meal of the day in the mid-to-late afternoon. But now? If I expect myself to workout in the morning, I need to make sure I've eaten something beforehand. Only, not right beforehand, because my acid reflux is bad enough without sprawls and burpees contributing to the issue, haha.
Yesterday, my eating schedule got a little messed up due to a series of appointments & meetings that I had mid-morning. So I didn't really end up eating anything of significance until around 2 PM, and I do think that contributed heavily to my lack of motivation to workout.
Furthermore, due to my slightly hectic schedule, for the first time in the past two weeks, I totally picked convenience over nutrition. Which actually brings me to my final point…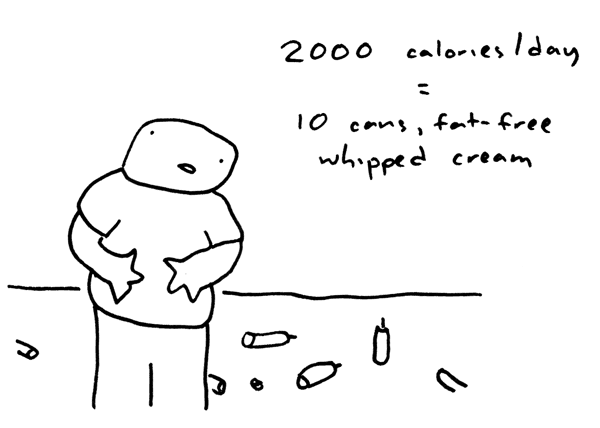 3. Not all calories are created equal.
I like to think that I'm pretty knowledgable about calories at this point. I've been counting 'em for a long time. I can tell you off the top of my head how many calories are in an egg (70) or a banana (90) or a cup of romaine (8). And while I was losing weight the first time around, I took a lot of pride in being creative with my daily calorie counts.
I felt (and I do still feel) that it's totally possible for you to continue going out to eat and ordering in, and still lose weight. Because a calorie is a calorie, right? Even if you eat out a lot, you can still make food choices that keep your calories a little lower. And if you were to spend two-thirds of your daily caloric allotment on fast food, but still stay under your overall intake goal, it's not that big a deal. Because as long as your total number of calories in is lower than your total number of calories out, you'll eventually lose weight.
Weeeell, I still believe that's true. Kind of. However, when you add physical exertion into the equation, the type of food you're ingesting becomes a lot more important. Suddenly, your body is actively utilizing the calories you ingest for energy. To make it so you are physically able to do the sprints and the press jacks and the side lunges and the tricep dips. And the kind of energy your body extracts from a McDouble (390) is definitely different than what it might take from, say, a salad with grilled chicken, tomatoes, bell peppers, red onion, and avocado (which could land you around 390).
Given my poor performance yesterday, I feel pretty confident that the kinds of calories I need to consume matter a little more than they used to. I had a lazy, convenience-driven day yesterday, and I really felt it in my muscles when I worked out. I felt sluggish and heavy and just general not-great. So while a calorie may just be a calorie when it comes to weight loss, a calorie is NOT just a calorie when it comes to fitness.
So, yeah. Consider these my beginner's lessons learned thus far. Granted, it may be a little bit silly for me to be trying to spout these wisdoms now, with my active lifestyle still in its relative infancy. But, hey, a learning is a learning, right?
I mean, all that said, I am still proud of myself for rallying and working out yesterday. In spite of the many factors I had working against me, at least I can say that I tried! And some activity is always better than no activity, there's no doubt about that.
Besides, today is a brand new day, so hopefully with some better fuel in my system (oatmeal for breakfast!) a full-night's sleep (in bed by 1 AM!) and a more normalized eating schedule (awake in the single digits!), I'll be back to sweating it out and feeling good about it in no time!