Aloha, week 16!
I've got the usual updates down below, but first off, I'm super excited to tell you guys that my sister, Jen, is also pregnant right now with #3! I've been trying really hard to bite my tongue about the news until she had officially announced (she was waiting until she found out the sex — Mia and Kira are getting a baby brother!!), but now the word is out!
She's 5 weeks ahead of me, and it's been really fun and definitely very special to go through my own pregnancy along with her. Since this is her third, she's a pro now! And getting to glean bits of wisdom from her, as well as having someone who never seems to get tired of me complaining to her about the ugly side of pregnancy, has been really nice. Although, admittedly, late Summer/early Fall of this year is gonna be kiiiiiiind of a crazy time for my parents, heh.
I had my 16 week OB checkup yesterday, and got great news about the First Trimester Screen I completed last month. Foxlet has a 1/10,000 chance of having Trisomes 13, 18, or 21 (Down Syndrome), and according to my doctor, that's the best possible result I could've received! So hooray!
Foxlet's Size: Foxlet is the size of an avocado, a dill pickle, or a can of soda.
Weight Gained: I'm back up a pound or so this week, still sitting about 13 pounds down from my pre-pregnancy weight… not that you'd know it given how gigantic my stomach already is. Like I discussed last week, apparently even a teeny little avocado of a baby can give you a giant ultrabelly if you've already got a nice squishy stomach to start with. Oy.
Symptoms: Nausea's still hanging around, lucky girl that I am, although I've had 1 or 2 miraculous non-nauseous days (or at least, completely nausea-free until nighttime) which have been amaaaaaaazing. Still holding out hope that I'm juuuuuust about to turn that corner and finally start to feel that pregnancy glow, lol.
This week I've also been experiencing a little bit of heartburn, I've still got that lovely boob tenderness, and I've been noticing I get cold much more easily/frequently than usual (which is sure strange for me, because I'm normally always hot!) On the positive symptoms side of things, my nails are super strong and thick right now!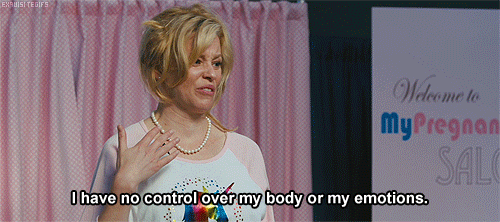 Emotions: Oh boy. They are definitely in hyperdrive right now. If I thought I've been extra emotional these past few weeks, I really didn't know what I was talking about. It is pretty extreme right now. I spent the majority of yesterday in tears for one reason or another — Sean had to work late, Daxter was being cute, someone made me feel fat, Piper and Leo just can't be happy on Charmed, I wanted ice cream and then I didn't… you get the picture.
And it probably isn't helping that I've been listening to the Moana soundtrack nonstop every time I'm in the car. I have yet make it through without bursting into tears during "How Far I'll Go." And that goes double for the reprise.
Cravings: Fresh fruit, especially watermelon and apples, raw veggies, and Thai food, particularly noodle dishes like drunken noodles and pad see ew. Although, with my nausea still coming and going, unless I act on a craving immediately, by the time I get my hands on whatever food I said I was craving, I don't want it anymore. And I have the untouched containers of pad thai in my fridge to prove it. Sigh.
Still, I'm taking pleasure in every moment that I actually desire food at all, since that hasn't really been the case for the past 3 months!
Aversions: Red sauce, bananas, and, unfortunately, fish are currently on my oh-no-no list. I'm starting to become less averse to meat, which is good, but still am not feeling much of a desire to eat it.
Sleep: Still sleeping hard and long. Crying all the time is really exhausting, okay?!
Purchases: I actually made my first relatively big baby-related purchase this past week! It wasn't big monetarily, because I paid just $35 for it, lol, but it's a big deal because it's our first real piece of baby furniture: a bassinet!
I've pretty much decided that I'll want to keep the baby in a bassinet/pack-n-play/mini-crib/something on my side of the bed at first, and I've been looking into bassinets in particular since our bedroom isn't all that big. I'd already seen the Babyletto Bowery bassinet online during some cursory searches, and liked the look of it immediately. But with a retail price of $120 – $150, and some mixed reviews about its size and unwieldiness (it's actually surprisingly big!), I wasn't ready to purchase it outright (or even add it to my registry just yet.)
That said, when I saw it pop up on Facebook Marketplace for such a low price, I couldn't pass up the opportunity and decided to give it a chance! I figure that if Foxlet doesn't end up liking it, or if we decide to go in another direction, I can always resell it (or, worst case scenario, we're only $35 out anyway.) It's got a few cosmetic scratches, but is in good condition, and even came with an upgraded cradle mattress (the one that it normally comes with is apparently really crappy). I've cleaned and disinfected it, as well as filled in some of the scratches using the walnut hack. I'm pretty happy with the result!
I know I've still got a loooong way to go with this pregnancy, but I won't lie, picking up our first piece of furniture has me pretty excited! I think it's just like, every new part of preparing for the baby just makes it all the more real, y'know?
Wearing: With the warm weather we've been having this week, I'm all about the maternity shorts I picked up from Old Navy and Target! As you can see from my bump photos above, I think I'll be getting my money's worth with these.
Missing… being on my normal emotional spectrum (which was, let's be honest, already pretty wide-ranging, lol.)
Looking Forward to… continuing to get more mommy practice in while my nieces are currently visiting. I've been able to hang out with my friend Lara and her beautiful new baby girl as well, which has been a great lesson in just how tiny babies are when they start out (given Mia's and Kira's current size, this is a surprisingly easy thing to forget.)
Ooh, and I'm definitely looking forward to my birthday dinner this weekend, too! My birthday isn't until Tuesday, but my family is celebrating early while Jenny and the girls are in town. Huzzah!