First off, I need to thank each and every one of you who has left the most thoughtful and wonderful comments on here, Facebook, and Instagram, and by messaging me directly. You really know how to make a girl (and her bebe!) feel loved and supported, and I'm so grateful for my amazing village. I actually feel a bit sheepish for making such a big deal out of all this when I know that my situation is far from worst-case.
But I mean, hey, I'm a first-time mom, and the fact that things escalated so quickly in such a short amount of time really threw me for a loop. So yes, admittedly I was a bit shaken by this most recent turn of events — finding out that my bp meds aren't working as well anymore, being sent back to labor & delivery for more testing, and being officially scheduled for my induction (a week from today!). However, with a smidgen of time and, moreso, so many of you guys sharing your own experiences and stories with me, I am feeling a little more level-headed and optimistic.
While it's still not fun to have the threat of preeclampsia looming over me and while, of course, I would prefer to have been able to carry out the entirety of my pregnancy without a high-risk designation, I know that the odds really are in my favor here. Provided things stay relatively stable between now and next Tuesday, Foxlet will be born at 37 weeks on the dot (give or take 24 hours, most likely), and I recognize that plenty of babies even come at 37 weeks all on their own!
And should we not quite make it to Tuesday… well, I've now received both of my betamethasone shots (steroids meant to aid respiratory development) and all signs continue to point to her being perfectly happy all up in my uterus. So even if I end up being sent straight to be induced after my follow-up appointment this afternoon, she should still be in pretty good shape. After all, we've made it this far!
Foxlet's Size: At 36 weeks, the apps say she's around 6 lbs and the size of a cake, papaya, or 2-liter bottle of soda. Since we have an estimate of her size from last week at 5 lbs, 13 oz, and my baby book says they put on about an ounce per day, we can guesstimate that she's around 6 lbs 5 ounces now? With a potential 2-pound variant] in either direction, hahahahaha.
Weight: Not that I really care at this point (nothing like medical drama to finally have me stop caring about my weight!) but based on my various weighings at my various doctor's appointments, I still seem to be fluctuating within 2 – 3 pounds of the same weight I've been seeing for the past few weeks. You know, up if I'm weighed after I've eaten, down if I've just gone to the bathroom, etc. I think overall I'm anywhere from 3 – 5 pounds above my pre-pregnancy weight? ::shrug::
Symptoms: Oh god, the sciatica. It sent me back to the doctor's office last week in tears, but luckily it has somewhat subsided over the past few days from the acute, knee-buckling sharpness to a general ache. I totally credit my mama for this, who had been out of town visiting my new nephew in Atlanta, but quickly put her amazing Chinese massaging hands to use once she came back and has really been helping me with my pain points.
Aside from the pain from that, my main symptoms are shortness of breath, lots of Braxton-Hicks contractions, and my newest symptom are these really intense back and neck spasms that I've been getting. They are really intense — almost paralyzing — and hurt but not like, in a super-sharp-pain way, but rather in a kind of everything-tightens-up-and-you-can't-move way. I confirmed at the hospital yesterday that the spasms aren't contraction-related, so maybe Foxlet just shifted positions and is pressing on a nerve or something… which is maybe why my sciatica is suddenly somewhat relieved but I've got these new fun to experience, lol.
Emotions: Highs and lows, my friends. Hiiiiiiighs and lows.
Cravings/Aversions: All the Chick-fil-A and an intense craving for crab legs that I have yet to satisfy because Sean won't take me to Red Lobster. ::tear::
Sleep: Meh. I've been sleeping okay by my standards, but I seem to have lost my magical ability to instantaneously return to sleep after waking. Which isn't super great when you're getting up to pee every 3 hours and your husband's alarm clock goes off at 5. But again, I just look at this as great practice for when Foxlet is actually here, so it's cool. I think I'm gonna get reeeeeal good at napping.
Purchases: UHHH fracking Carter's, man! They sent me a catalogue in the mail and since I'm somewhat bedridden of COURSE I flipped through it… whereupon I immediately laid eyes on THESE: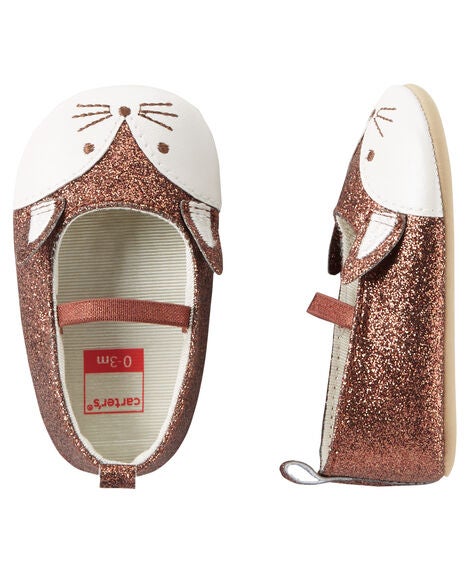 And I swear, I have never gone SO FAST from seeing to buying. So these shoes are now on their merry way to me, along with like four other absolutely unnecessary things. Y'know, 'cause even though her closet is literally overflowing with clothes thanks to the generosity of my sister's hand-me-downs and gifts from all my awesome friends, and even though I SWORE I wasn't gonna buy her any more clothes myself because I don't even know how she's gonna wear what I already have for her… I mean, c'mon. Can you really blame me?
Looking forward to… dropping off the giant jug of my own pee that I've had to literally squirrel away over the past 24 hours so it can be tested. And hey, you can call "TMI!" all you want, but I had absolutely noooooooo concept of what a 24-hour collection was before they handed me that bright orange jug and told me what to do so I figure if nothing else, mentioning it might at least help prepare someone in the future.
NOT looking forward to… I dunno, technically I'm not really looking forward to my induction, I guess. I mean, it's still a little bit scary, y'know? Having to get all these meds to push me into labor, the looming threat of a C-section (which, of course, is not the worst thing in the world but again, as a concept surgery kinda freaks me out!), etc. But I also kind of am looking forward to it? Because even though it's not what I planned on originally, once I go into the hospital, I won't be leaving without my baby. Which is awesome. And terrifying. And wondrous. And ridiculous.
I mean, DUDE. BY THIS TIME NEXT WEEK I MIGHT BE A MOM.
… I can't believe they're just gonna like, let me.