First off, thank you all SO much for your thoughtful comments and advice with regard to my wedding date dilemma. Many of you just affirmed what I had been feeling all along, which is that I should go for the wedding that I've always envisioned! I spoke with Sean about it again, and he is supportive of whatever I want (because he is the best), so I have decided to go with my heart…
… and have officially selected January 23rd, 2016 as our wedding date!
HUZZAH!
There are a lot of factors that went into this decision, but it basically came down to the fact that I had a huge list of pros for January (it's close to our anniversary, it's cold and I would MUCH rather be cold than hot on my wedding day, it fits my wedding vision, it's not as busy a time for Sean and me at work, it's a little more unusual, some key players are more likely to be able to attend in January) and only one real con (weather potentially affecting people's travel.) But I did my due-diligence, researched and used some weather predictors (which, who knows how accurate they really are, but they do make me feel better, haha), and decided that it's true that the "real" snow around here tends to hit a little bit later in the winter, so while it's still somewhat of a risk, I'm just going to have faith that it'll all work out regardless.
Plus, I just kept thinking about how if I chose a later date, January 23rd would roll around and I'd feel so wistful not having chosen it. And the one thing I do not want to feel when it comes to this wedding is any form of regret.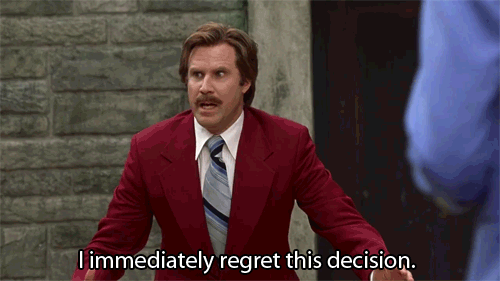 So, there we are! I guess I just needed a little bit of reassurance that I wasn't totally crazypants for wanting to move forward with January. So thank you so much for that!
Oh my goodness, I cannot even tell you how much relief I feel just from having officially picked a date. I mean, I know it's not official-official until the contract is signed and the first bit of money gets forked over, but just having made an actual decision is a huge weight off my shoulders.
See, without an actual date (and the venue that tends to come with it), it's really hard to make any other wedding decisions. I've been putting out inquiries and doing a lot of research, of course, but without that firm date, it's hard to book other vendors, plan your Save the Dates and invitations, or even just generally get your planning timeline in check!
So now it really feels like the rest of my wedding planning can begin! I'm obviously very excited to have the date chosen and another thing checked off my big to-do list. So as far as "big" wedding items, here's where we stand:
Date: ☑
Venue: ☑
Dress: ☑
Caterer: ☐
Photographer: ☐
Flowers/Centrepieces: ☐
DJ: ☐
Cake: ☐
Invitations: ☐
We also have our officiant taken care of — my uncle is a Bishop and my cousin is a Rector for the Episcopal church, and they have both agreed to fly out to perform the wedding! Hopefully they are open to having some additions and small changes to the traditional Episcopalian liturgy, because I have a lot of ideas when it comes to that too, hahaha.
Anyway, I think that covers all the big things, right? Is there something crucial on that list that I'm forgetting? I tend to think things like my bridal accessories, wedding website (already started, but in very early stages right now), bridesmaid dresses, favors, creative components, additional decor, and the like as things we can tackle a little bit later on… though to be fair, they also tend to be the things that I have the most fun with, heh.
In fact, I may or may not have already snatched up some gold charger plates on Craigslist (160 for $80!!!) without even having any of the other big stuff finalized, haha. But! I know that I want gold to be one of my colors (I'm thinking of a gold and black color scheme, vibing in on that old Hollywood glamour flair, hehe) and I just couldn't pass them up. Chargers can be anywhere from $2 – $7 EACH through a rental company, so owning them for $0.50 each is just a crazy good deal.
Anyway, the next steps will probably be getting in some additional catering quotes (I've only received one that's within my budget so far, but am waiting on two more) and selecting a photographer, and, of course, continuing to Pin things that I'll probably never be able to actually pull off, as well as cry about how much Chiavari chairs cost.
Onward hoooooo!