Most of you reading this probably know that back in August 2010, I started this blog purely to help me with my weight loss. It was called, "Honey, I Shrunk the Gretchen!" and writing about my struggles, victories, failures, and successes eventually led me from 246 pounds to 186 pounds — a sixty pound weight loss.
Of course, as we all know, I did not maintain that weight loss. And I find myself nearly exactly at the same weight I was five and a half years ago — in fact, I had to lose 7 pounds just to get back to (almost) the same starting point. Needless to say, facing up to this fact has been a real challenge for me.
See, previously having succeeded in losing weight, I have all sorts of comparison photos that show the before vs. the "after." Of course, now, having gained my weight back, my "current" is basically worse off than my original "before." This, it goes without saying, is both a strange and supremely disheartening feeling. In past years, I spent not a small amount of time putting together collages and photo comparisons of myself before and after my weight loss. I wrote many, many posts all about how overjoyed I was not to be "that person" anymore… only to slowly become that person over the next couple of years.
Now, granted, I realize that I'm not really the exact same person. I'm older, wiser (?), and my hair has gotten way, way, way more fun. But you understand my point. The fact that I've already been through this once (and, if we're being honest, it's really been more like eleventy billion times, given how often I've started and stalled in my various weight loss attempts, but I digress…) means that I've got a lot of complicated feelings about going through it again.
Every victory feels tainted with the knowledge that I'm doing it over.
Every time I stop myself from taking seconds, or I decline ordering dessert, it reminds me that I'm just at the very beginning of this long, arduous process.
And it just feels like I've wasted so much time.
How do I celebrate my current and future successes when each one is just a reminder that I backslid so far in the first place? How do I look past what's happened in my past?
I know in a cognitive sense that it's dumb to dwell on this. What's happened has happened, and the only way to go is forward. But knowing and feeling, I think we can all agree, are different things. And right now, this feels so joyless because I can't block out the idea that I'm living my own straight-to-DVD sequel.
This is not to say that I'm discouraged enough to stop. It's the contrary, really, I feel as though I have all the more to prove now. I just hope that as I go along, I'll be able to reclaim some of the joy that comes with the smaller victories along the way. Because any way you dice it, staring down 40 or 60 or 80 or however many pounds one needs to lose… that's a tough pill to swallow. And finding joy in the 5 pound losses and the non-scale victories and the little indicators of success was so crucial for me the first time around.
I guess there's only one way to find out how I'm really going to be feeling over time — I need to give it time. After all, this is still so new. And yet, old. Haha, are you guys sick of me talking like this yet?
All right, I think I've blabbed on enough for one day. Those who know me, know that I deal with having a lot of feelings on any regular day, so throw in my currently complicated self-image, weight loss, and what can only be described as intense sugar withdrawal symptoms, and well, you get me.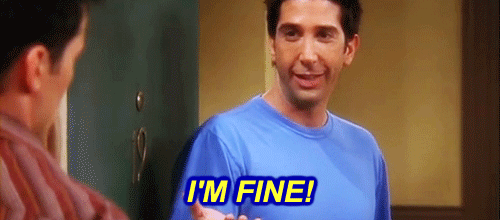 But don't worry, sunshiney, bubbly Gretchen will make a triumphant return before long, I'm sure of it. Just let this hot mess version work out a few more things first, eh?