In the past four years since I started this whole blogging thing, I've gained weight and I've lost weight. I've gained and lost in the small-picture, week-to-week sense — 2 lbs lost here, a pound gained there — and this minute yo-yoing of the scale inevitably proved inconsequential, as in the long run, I made it to a whopping 60 pounds lost in total. And so the individual gains that may have happened along the way were, of course, overtaken by the individual losses that I experienced.
But, of course, as we now know, I've also lost and gained in the greater, bigger-picture sense, with a much less celebratory outcome — sure, 60 pounds were lost, but then 10 pounds were gained. And then maybe 5 pounds were lost again, but another 10 were gained. And so on, and so forth, eventually leading to a grand total of 50 pounds slowly and surely attaching themselves back onto my body over the course of the years that followed.
Yeah, I know, that's a lot. Just like 60 pounds is a lot of weight to lose, 50 pounds is a lot of weight to gain back. But here's the thing, it really didn't SEEM like a lot at the time. Each pound that crept on really seemed to do exactly that: creep. Unlike in my previous life as a binge eater and general destroyer of my body, I didn't think that I was doing that much particularly unhealthy stuff. I wasn't sneaking Baconators into my dorm room, I wasn't tiptoeing around the kitchen at midnight, I wasn't pretending like I didn't already eat dinner only to go have a second dinner with friends.
Sure, I also wasn't running anymore, and I had stopped counting my calories, but it's not like I was diving headfirst into a pile of chili cheese fries every night either. I ate lots of normal, healthy, whole foods (and occasionally some unhealthy foods too, of course), with the key word being "lots." I was simply eating more than I should have been eating, and not moving as much as I should have been moving.
And so the weight, it came. It came slowly and quietly and in the dead of night, and it's almost like I didn't even notice it was there. I say almost, of course, because in reality I did notice.
It's not that I was in denial about gaining weight. Denial suggests that I had no idea that I was gaining weight, that I was filling back out, that my clothes were getting tighter. Of course I had an idea. Of course I knew. I mean, I was having candid photos of me taken on a monthly basis! It's not like it's something I could really hide. When you're fat, it's not like you don't KNOW you're fat. Sometimes you just don't care. Unfortunately, when it came down to brass tacks, I still did. Care, that is.
So it wasn't that I was in denial over gaining the weight. I was in denial thinking that I didn't care I was gaining it.
I didn't want to care. I didn't want to continue feeling emotionally tied to a number on the scale or label in my pants. I didn't want to look in the mirror and be discontent with what I saw. I didn't want to untag myself from photos on Facebook that I didn't "like." No, I wanted to be able to find that glorious place within myself where I could not care about my size, where I could look in the mirror and smile without a caveat, where I could simply love me for me.
And don't get me wrong, there was not a small amount of soul-searching that came with trying to force myself not to care, and amazingly I did come out the other side with a much richer understanding of how awesome I am.
But, as much as I truly do believe in self-acceptance, body-positivity, and loving yourself no matter your size, weight, or body type, what I think the whole "me not caring" thing really came down to is that I just didn't want to TRY anymore. Losing weight is easy but it's hard. The theory is simple but the practice takes dedication and willpower and I had the mistaken thought that losing weight would be a one-and-done thing for me: I'd lose the weight, change my habits, and be at a happy size forever.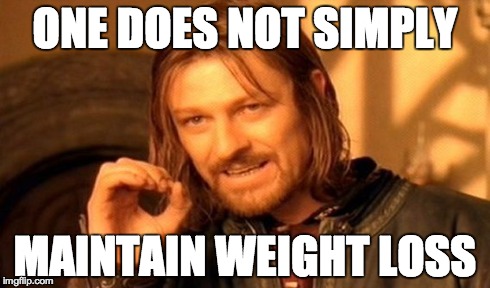 As I've learned, it's a constant, constant struggle for me. Regardless of whether I'm 180 pounds or 230 pounds, I'm not the kind of person who can play it fast and lose with her portions. I am going to need to keep an eye on how much I eat for the rest of my life. And that's a hard thing to really wrap your head around. It's the kind of thing that makes you not really want to bother trying to lose weight.
And yet, here we are again. Partially because I've totally jumped on the New Year's Resolution bandwagon this year, but moreso because I'm simply ready to start trying again. After all, my happy weight is any weight at which I feel happy, and I'm just not feeling my happiest at my current weight anymore.
Of course, starting back down this road again does beg some questions: What's my goal this time around? What am I gunning for? Why now? And, of course, given that I've tried rebooting my weight loss several times over the past couple years, what's different about this time?
What are my goals? Well, I admit that I'm not totally sure where my goals lie at this point. I know that I want to lose a bit of weight, but I really am trying to maintain a focus on my overall health and fitness as opposed to just my size.
Why now? Because, well, why not? I don't think I need a specific reason to want to lose weight, get healthier, or shape up, but I guess that, just like the very first time, it boils down to a lot of different factors all reaching their tipping point: I want to be able to wear my old clothes again, I want to tone up, I want to feel confident having my photo taken, I want be able to keep up with my energetic almost-two-year-old niece, and I want to set up habits that will help keep me healthy and strong as I continue to get older. I'm still pretty young, so yeah, I can carry an extra 50 pounds around and it doesn't seem like a big deal. But in another 5, 10, 15 years? Knowing that I'd just be making things more difficult for my future self, why would I wait any longer?
What's different? An emphasis on fitness, being active, and actually trying to establish a true habit of working out daily is a HUGE difference for me. Even when I was being a weight loss rockstar, exercise was the most minimal part of my routine. I was really only working out or running when I had a specific race to train for, and even then, it was probably only three times a week. Approaching this from the fitness side of things feels like I'm coming at this thing from an entirely new angle.
So here's to another onslaught of incremental losses, miniscule gains, and my overall weight loss, fitness, and health. Let's see if it finally sticks this time, shall we?