First off, hugs and high-gives to all you for the kind words and comments I've received over the past week regarding my proposal — I definitely should have said something in yesterday's post but I got too excited to show you my new hair and start talking about wedding stuff so I forgot… and then I got even MORE nice comments on that post so, I definitely had to say something now! Seriously, you guys are the best.
Secondly, I got some super interesting (and helpful!) comments in yesterday's post about money, finances, and wedding budgets, so I thought that I'd devote a little bit of time dissecting my thoughts on the matter. After all, if nothing else, this blog has always served as an amazing way for me to gain clarity on pretty much any situation, so I figure it should be no different when it comes to organizing my thoughts on all things wedding-related!
Now, this is what we know to be true: traditional weddings are really effing expensive.
This is what we also know: I do want a "wedding" in the traditional sense of the word. I want the whole shebang — a ceremony and portraits and cocktail hour and sit-down dinner and dancing and cake cutting and all of it with a whole crapton (that's the technical term, right?) of our family and friends there.
I mean, I absolutely want it to be unique and personal, and I want to infuse both the ceremony and reception with both Sean's and my personality, and of course I want there to be little touches and special significance to, well, um, everything. But I'm not (totally) delusional. When you take a step back and look at it from afar, it'll probably still look like, y'know, a wedding.
And weddings, well, I hear they take money.
As I mentioned yesterday, I have very generous parents who have given me a much bigger budget to work with than Sean and I could ever afford on our own, but even (especially!) knowing that, it's not like I'm working with unlimited funds by any means. I want to be respectful of my parents' hard-earned money, of my own money (I also work hard for that ish!), and find creative ways to cut costs without cutting corners.
I most definitely do not plan on going into any kind of debt for what essentially boils down to one baller party (much though it hurts me to call it that), so if costs end up above the budget my parents have set, I'm prepared to pay the difference as long as I can afford it, but would obviously still like to save money where I can.
The most common wedding budgeting advice I seem to see is to pick a few things that are REALLY important to you, and make those your priority. So if, say, having your dream photographer and decorating with gorgeous flowers everywhere matter, make those your big budget items and you can scrimp a little in other areas.
But my dilemma is… what if everything feels important right now? What if I want my dream photographer AND my dream dress AND five-star food AND an epic band AND a dessert table?
How do you pick and choose and prioritize when it's all part of your vision? Is it the kind of thing that just makes itself more clear as time goes on and the wedding takes more shape? Or is it something you definitely need to establish from the get-go so you have a course-of-action going into the planning process?
Sidebar: I know that I'm diving headfirst into what is basically the ultimate level of  being #basic and having #firstworldproblems, buttttt… I'm newly engaged, surely I get a few weeks of slack to indulge my ridiculous fantasies, right? 😉
I know that there will be things that I have to compromise on, and I absolutely accept that, but when it comes to really getting into the nitty gritty of budgeting and figuring out where to spend the $$$$ versus the $$$, I guess I'm just having a little trouble breaking it all down. Apologies in advance if the following ends up being a whole lot of words without a lot of sense, but I really think just talking (writing) about it will help me straighten things out.
Photography is probably one of my top priorities, given that photos are the one thing that will last loooong after the memories of the big day start to fade. Videography is also something that I want to be able to remember our wedding by, and captures the day in a way that sometimes not even photos can.
Unfortunately, my role as the sister of a wedding photographer is actually not as beneficial as one would think, since I want Taylor and Ben to be present and have active roles in my wedding, not forced to see it from behind a lens. And ALSO, due to me living and working in such close proximity to them, I have pretty high standards for photography since they're so good!
Food is, obviously, also really important to me, as I am a lover of food, a supporter of local restaurants and local farming, and I know that food makes people really happy! However, my sister continues to remind me that in a few years, nobody is going to remember the food at my wedding unless it was either A) jaw-droppingly incredible or B) food-poisoning inducing. So, if I fall anywhere in between on the spectrum, nobody will probably even notice.
I also really want a special and unique wedding venue, and venues in the DC Metro area are NOT cheap. Hopefully this is one area that we'll be able to save a little on because I'm pretty sure we'll be getting married during off-peak season (I'll go into my reasons for that in a later post), but that still doesn't necessarily mean it'll be cheap.
In a perfect world, I would also be able to afford a live band, because that kind of energy and crowd-pleasingness is hard to replicate elsewhere! This is, however, something that I've conceded will probably not happen, as DJ pricing is infinitely more in line with my budget.
As for the dress, all I have to say is DAMN YOU, Say Yes to the Dress! You have totally RUINED me. I'm pretty sure before this show existed, it would never even occur to me to look at three- or four-thousand dollar wedding dresses. I mean, that's a used car! A semester of college tuition! But, that damn show and those damn beautiful designer gowns… I want it. I want the dream gown with the designer name and I hate myself just a little bit for it.
To make myself feel better, I keep telling myself that I'm barely skimming the surface of the kinds of dresses I see people buy on that show. I mean, I've seen $8,000, $10,000, even a $34,000 dress be snatched up by brides, leaving me staring at the TV with my mouth agape, eyes agog, and probably just a liiiiiiittle bit of drool in the corner of my mouth.
The one thing I am finding pretty easy to push down on the list is flowers. I find wedding flower prices to be absolutely outrageous, and while I recognize how stunning a great floral centerpiece or beautiful bouquet can be, I think that fantastic aesthetics can be attained without a ton of expensive blooms. I do plan on DIY-ing a lot of centerpiece stuff (if I have the wherewithal to complete it), and it's been my dream for a long time to carry a brooch bouquet instead of a traditional floral one.
But these are just some of the considerations that go into a wedding. It doesn't even take into consideration things like renting a car or limo, event production (uplighting, draping, additional decor), a dessert table, or even pre-wedding stuff like invitations and… oh lorrrrrdy.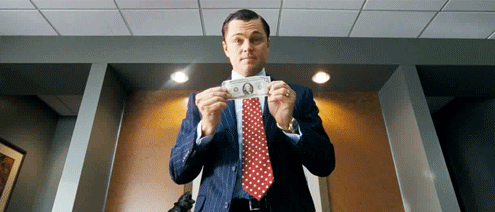 ANYWAY. The TL;DR version of all that word vomit (which hopefully none of you actually read through in its entirety) is that there are a lot of things that I consider to be important parts of our overall wedding, and thus worthy of large parts of our budget… but obviously I can't devote tons of money to them all.
So I guess my question is a pretty simple one, really: What were the most important things for you to budget for when it came to your wedding? And how did you decide where to cut costs?
I know I may very well be overthinking and overanalyzing and over-whatevering at this early point, but I really don't want to end up in a position where I don't understand how much specific things are going to, and get overwhelmed with the finance portion later. Anyway, if you made it through the entirety of this post, you will receive a sticker in the mail for your fortitude, and I'll see you guys on the flip. 😉