Happy Monday, folks! Title is to be sung annoyingly in your head for the rest of the day to the tune of the Black Eyed Peas' "Boom Boom Pow". You are so very welcome. 😉
So hey, remember that time when it was my birthday and my car died and I spent 4 hours in the autoshop getting the battery replaced?
And then remember that other time, when it was a month ago and my car died in the exact same way, and I spent another 4 hours getting one of the post relays (or something) replaced?
I'm sure you see where this is going.
Yep, yesterday my car died, again. My sad, old, tired 2000 Chrysler 300M is apparently just not loving life anymore, and decides to continually test my sanity by dying without warning over and over and over again. Seriously, it is the most frustrating thing ever. It'll be fine, zooming along, business as usual. I'll drive it to work. To home. To Starbucks. To the gym. And then suddenly, without warning, without even the SLIGHTEST indication that anything should be amiss (i.e. no battery light or anything like that), I'll try to turn it on. And it just won't.
No lights.
No engine trying to turn over.
Nothing.
Like all of the power has just been completely sucked out through some kind of power-sucking machine.
This time, it happened at the Exxon station, mere seconds after I had filled up my tank. My brother Ben came to my rescue and spent an inordinate amount of time trying to jump it, but for whatever reason it just was not jumping from a car. Taylor's parents ended up stopping by and trying to help as well, but still nothing. Eventually, I had to call USAA (because of course, with all of my OTHER car dying stuff, I've already eaten through my free AAA service calls and AAA would have cost me $75+ to jump it whereas USAA only cost me $53) to come out and help, and in an act that only served to infuriate me further, the car jumped on the first try with his little jumper box thing.
Enter the "sigh".
Sean lent me his little portable jumper box, which I need to charge up so that this doesn't end up happening again, but in the meantime I dumped my car at my parents' and borrowed one of theirs instead. I was just sooooo not willing to spend the rest of my Sunday (it literally took hours to get the freaking car jumped and moved) in the waiting room of Sears Auto Shop (yet again), so I will deal with it later. And also in the meantime, I will be fantasizing about buying a new car, complete with warranty and new car smell. I still have yet to test drive them, but these are the top contenders in my mind right now:

Kia Soul (yep, pretty much just because of the hamster commercial)

Nissan Cube

Scion xB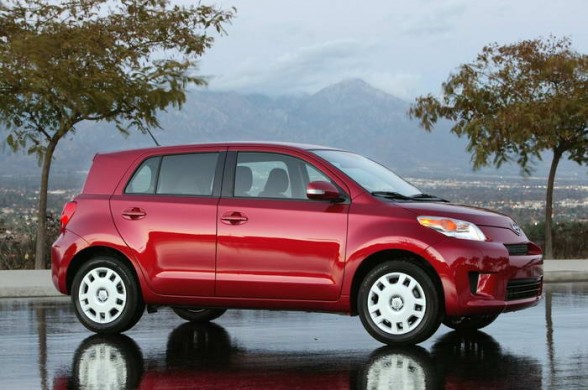 Scion xD
I also want to test drive a few compact cars, like the Honda Fit and Ford Fiesta, but I do like the idea of having something just slightly bigger for not that much higher of a price point (the xB is the most expensive one on the list). I particularly like these ones because they're big for their price, they come in fun colors, and they're just a little bit weird, which, y'know, so am I. Obviously, I don't have my heart set on any one thing in particular just yet, aside from the knowledge that I will never again own a Chrysler. NEVER. AGAIN.
I know you guys are all probably pretty sick of me whining about wanting to buy a new car, but there's a reason I haven't yet. Unfortunately Ben and I are tied up in a mortgage refinance right now, so I can't extend my credit right (i.e. take out a new loan) yet. I'm not sure when it's going to be resolved, unfortunately, so until then, you'll just have to put up with my whining.
What car do you drive? Do you love it? Give me your recommendations!