Christmas is my absolute favorite time of year. I mean, first of all, it takes place right smack dab in the winter season (I've already gone into detail about why I love winter). And the Christmas season just brings with it so many other joyous things: peppermint lattes, festive headwear, twinkle lights, sugar cookies, Christmas music, Christmas movies, the ability to wear glittery eyeshadow all the time without being judged, etc. It also just generally seems to make the world seem like a happier, more loving place — which, after this dumpster fire of a year so far, we need.
Don't get me wrong, I know that there are still lots of terrible things that happen on a daily basis, things cannot be covered up with a sprinkling of snow and sugar. But, still, I do feel like there's something… I dunno… unifying in the air around this time of year. I tell ya, it must be that holiday spirit! People are just a little nicer. More likely to hold a door open. Leave a bigger tip. Return a warm smile.
And so, I revel in it. From the Day After Thanksgiving until December 26th, I am totally, 100% that girl. I wear my Santa hat relentlessly. I have my car radio always set to 97.1 (the holiday music station here in the DMV). I bust out my holiday sweaters, move anything with even a semblance of sparkle at the front of my closet, and soak in the sights, scents, sounds, and scenery of Christmas.
Of course, since I work from home and am pretty much just a crazy schnauzer hermit 75% of the time, a lot of that holiday scenery takes place inside the frame of my television set. I freaking LOVE Christmas movies, and in case you have yet to jump headfirst into the world of holiday movies, I thought I'd put together a handy-dandy list of what I consider to be must-watches every December.
Elf
It should come as no surprise to anyone that my absolute favorite Christmas movie is Elf. Just like smiling, Elf is my favorite. Despite Zooey Deschenel's unfortunate hair color choice, the movie never fails to delight. Top moments include: the jack-in-a-box scene (kills me every time!), Buddy's breakfast spaghetti, "Franciscoooooo," Mr. Narwhale, and, man, there really are basically too many to list. I effing love Elf.
The Holiday
Second on the list is The Holiday. I feel like it's a consistently underrated holiday film, but is a really charming romantic comedy that isn't actually overtly Christmas-y. Also, the score by Hans Zimmer is really just fantastic — it's worth watching for the score alone.
The Family Stone
Family is everything, man. The Family Stone has some heavier moments (as well as a couple of cringe-worthy moments involving SJP's character), but its overall message about the importance of family really resonates with me. Plus, it's got just the best cast (Rachel McAdams! Dermot Mulroney! Diane Keaton! Claire Danes!) , as well as plenty o' Christmas.
Rent
You might not really think of Rent as a "Christmas movie," but it definitely counts in my book, as it both starts and ends on Christmas Eve (a year apart). And c'mon, this movie's got everything: love, friendship, music, irresponsible bohemian living, AIDS… what more could you ask for in a Christmas movie? 😉
Just Friends
I actually had forgotten that Just Friends takes place during Christmas until I rewatched it on Netflix recently. I had also forgotten how hilarious it is (once you get past some of the cringiest parts.) Ryan Reynolds singing All 4 One in a fat suit is comedy gold, as is basically everything that Anna Faris does in the movie. And everything Ryan Reynolds does… ever… in his whole life. (I love him.)
Love, Actually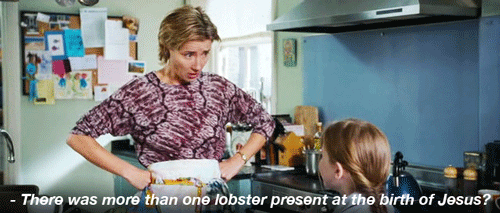 I feel like this is probably at the top of the charts on many people's holiday movie list, and I do continue to love it. However, the more times I watch it, the more I have to suspend my disbelief about, well, most of it (like, what kind of irresponsible record label doesn't record a Christmas album until 5 weeks before Christmas!?), and also, it makes me kind of sad because Alan Rickman is no longer with us. Still a classic one tho.
The Santa Clause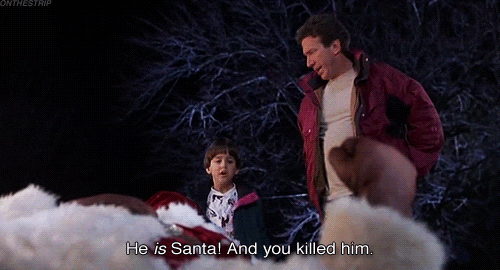 Tim Allen. Adorable child elves. 'Nuff said.
It's a Wonderful Life
Nothing puts your life in perspective like experiencing a crazy alternate universe where you never existed.
The Nightmare Before Christmas
I can never really decide if this is a Halloween movie or a Christmas movie, so I usually end up watching it during both. I mean, what fills your heart with more Christmas joy than singing along to "Kidnap the Sandy Claws"?
I'm sure there are tons more movies that I'm forgetting (as well as some I've left off the list purposefully… I'm looking at you, Home Alone), but this sums up the movies that are on my mind as of late. Of course, we can't totally ignore all the cheesy Lifetime movies that pop up on Netflix during this time of year. I don't consume tooooo many of them, but in my lust for all things Christmas-related, I haven't been able to avoid them completely. So here are the ones I've watched and have actually kinda enjoyed so far this season:
Christmas in the City — starring Ashley Williams (Victoria from How I Met Your Mother), it's a cutesy movie about a single mom trying to save her family business over the holidays. Ashanti stars as the villainess and does a truly heinous acting job.
A Christmas Kiss — this one caught my eye because it stars Brendan Fehr of Roswell fame. It doesn't do anything to reinvent the wheel, but it's cute enough.
A Christmas Star — I don't actually think this one is a Lifetime movie, but I found it randomly on the 'flix all the same. Set in a small town in Ireland, it's a very family-friendly tale of a little girl trying to save her town (sort of.) The movie is actually not super duper Christmas-y, and I enjoyed all the Irish accents.
Anyway, there you have it! What holiday movies am I missing? Leave a comment with some of your favorites!
Also, just as an update for those of you who don't follow me on social media, I chopped off all my hair:
It might not have been the best idea warmth-wise, considering the weather's just getting chillier and chillier, but what can I say? I got bored and wanted to look considerably cooler than I actually am. 😉
I'm really looking forward to the week ahead! My sister and nieces are coming into town Thursday, which is also my brother's birthday, AND is the night that Rogue One gets released, so it should be a full day of fun stuff. I'm also throwing an ice cream social-style event tonight (it's never too cold for ice cream!), I have my work holiday dinner on Wednesday, and have a Christmas party and a baby shower this weekend. Love this time of year!