Whew! Yesterday wore me out. I was on my feet from morning til almost morning again, and I'm definitely feeling it. And yes, I realize there are many people in the world for whom this is a frequent occurrence, for my sedentary butt, it most definitely is not. On the bright side, I actually hit all of my fitness goals for once?
Also on the bright side, of course, are the reasons why I was out and about for the entire day. I met up with my wonderful Yelp DMV coworkers for lunch, after which we went to volunteer with Martha's Table at an elementary school in Anacostia.
It was a really neat setup: Martha's Table collected food donations which were then divvied up and set up in the school's auditorium like a mini grocery store. After school, the kids and their parents came through with a little shopping list and filled up their shopping bar with fresh produce and healthy foods. There was also a station where a chef prepared a dish using several of the items the kids would be "shopping" for. That way, they could taste it, take home the recipe, and get an idea for how to cook with the items they were receiving. Pretty neat, huh?
I was really glad that my coworker Kimberly set up this volunteering opportunity — it was particularly awesome since, as you all know, cooking and eating well is already a long-standing interest of mine!
After we packed everything up, it was time for the other exciting component of my day:
Seeing Pentatonix in concert!
My friend Lara and I went up to Merriweather Post Pavilion to watch the sensational acapella quintet (maybe you remember them from The Sing-Off?) delight us with their delicious vocal magic.
Dude. Those harmonies. So on point. It was an awesome concert, made just slightly less awesome by the
banshee
PTX superfan sitting directly behind us, who vocalized her feelings of joy with the loudest, mostly highly pitched, shrillest screams EVER. My left eardrum truly may never recover.
Sigh, I think I'm getting old, you guys. First my teeth start falling apart, then I'm the crotchety old grandma at the rock concert. Plus the very fact that I began this very post complaining about how tired I am. AND I already like knitting… oy. The evidence is really starting to stack up.
I don't know if this will make me seem even older, but I don't even care because my last piece of news is the amazing, spectacular, incredible, life-changing fact that…
I GOT HAMILTON TICKETS!!!!!!!!!!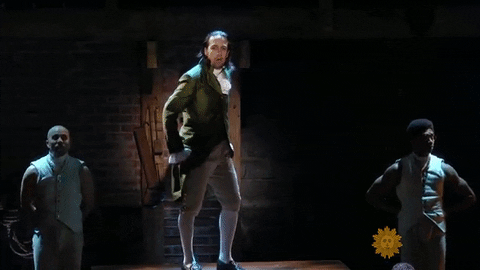 In case you didn't already know, I am legitimately, inexorably, consumingly OBSESSED with the musical Hamilton. I watched the cast perform at the Grammys and it was just all over for me from that point on. Of course, my dreams of actually getting to see the show performed life seemed an ocean away, since tickets have been sold-out for, um, ever. Sure, you technically can purchase tickets…from "third party sellers" ::coughscalperscough:: for an outrageous upcharge. We're talking prices like $600 – $1300 for ONE ticket.
Yeeeeeah. I mean, I'm a bonafide musical theatre buff with a serious crush on Lin-Manuel Miranda's lyrical magnificence, but even I wasn't that thirsty. Until the day before yesterday, that is, when fate, providence, and fortune all came together to bless me with tickets, purchased at a regular price, in all their glory.
It went down like this: at 9:54 PM, I get a message on Facebook that Hamilton tickets just went on sale. Turns out, this new block of tickets were actually released at 9:00 PM, so already, I'm thinking they're probably all gone. That said, hell if I was throwing away my shot!
I scurried over to the Hamilton website, and clicked on literally the first available date (November 1st). I waited with baited breath. It transferred me to Ticketmaster, and the angels chorus began: 2 tickets. Front mezzanine. Row C.
Before I knew it, my fast-flying fingers had proceeded all the way to the checkout page and the tickets were mine!
Of course, it wasn't until after I had already purchased the tickets that I casually mentioned that I spent not a small amount of moolah on theatre tix. Heh. After all, even at regular price, Broadway tickets ain't cheap. Heh. #goodwifeaward
Luckily, my husband A) doesn't care about musicals and B) just wants me to be happy so the entire encounter went something like this:
Me: AUGUGHHGHEHRGHGHRHGEH!!!!!!!! ::flailing around the room::
Sean: What?!?! What happened?!?!?!
Me: I ::sob:: FINALLY ::sob:: GOT ::sob:: HAMILTON ::sob:: TICKETS!!!!!!
Sean: …yay?
Me: You don't understand! I got tickets! For regular price! From the regular box office! Not for like triple the cost from a third-party seller! Hamilton! HAMILTON!!!!!
Sean: …yay?
Me: You don't have to come with me.
Sean: YAY!
Anyway, so that's pretty much the best thing that's ever happened, ever, and come November I'mma tear UP in NYC!
Aaaaand there you have it! News that most certainly cannot be topped, so I might as well just peace out here. Today we've got an exciting trip to the vet on the books for Harry & Daxter, the wonder mutts, followed by a weekend of many adventures, so hopefully I'll have some fun stuff to report back on come Monday. Have a great weekend!