…and not a drop to drink! Well, not yet, anyway.
As you might be able to tell from the title of this post, this past weekend marked my first active foray into active wedding planning activities: venue visits!
This might seem like a super fast development to a lot of you (and, hey, maybe it is!) but my reason for hitting the ground running with looking at venues is twofold:
1) Without a venue, you don't have a date, and without a date, you can't really plan, um, well, anything else. After al, the kind of venue you choose can have a big impact on what kind of wedding you end up having — maybe you thought you'd be planning a cute, Etsy-chic DIY-style wedding, but end up falling for an elegant and luxe-feeling hotel venue. Or maybe you figured you'd have an autumn vineyard wedding, but the winery you fell in love with is only available in the Spring. You get the picture.
2) I'm a crazy person and I'm just really, really, really excited to be engaged. (You already knew this one, methinks.)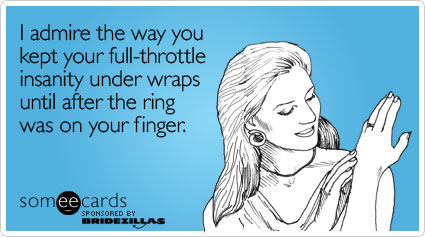 Plus, as many of you know, I plan a lot of events as part of my job for Yelp, and have thus been able to familiarize myself with a fair number of event venues — restaurants, hotels, and unique spots — in the Northern Virginia/DC area. So I already had a mental list of some of the places I would want to take a look at when the time came not for planning an Elite Event, but any personal events as well, including but not limited to My Big Day™.
I looked at three venues over the weekend (one on Friday with my sister-in-law Taylor and my mom, and two on Saturday with Sean), and I have a few more visits scheduled this week. I will admit, I have mixed feelings on the whole venue search process thus far, because I'd definitely classify it as one of the "less fun" aspects of planning… but, of course, it's arguably one of the most important ones at the same time.
It's just that I can already see how much time and coordination venue hunting involves — just to figure out a time to go check out a place, let alone the time it takes to do the actual checking out. And I say that knowing that I'm already at a huge advantage given that I work from home, so I have a lot more flexibility in being able to go see places, whereas I'm sure many brides have to squeeze in like five back-to-back venue visits a day on the weekends.
I know a lot of it has to do with the fact that with all those years spent dreaming about my future wedding, I totally romanticized it. So now that it's here, anything that requires rigorous scheduling, back-and-forth communication, or basically anything less than those totally overwhelming, tears-of-joy experiences you see on WeTV is just kind of depressing.
And because I didn't immediately have a "Hallelujah!" moment at the three places I've seen, I'm guess I'm just feeling a little more cautious now about the additional visits I have set up this week (which isn't necessarily a bad thing, I realize.) I'm sure I could write paragraphs about each of the places we saw this weekend, but I'll try to keep it short and sweet for ya, just in case you're curious to know my thoughts:
The Woodlands at Algonkian: Probably very beautiful in the late spring/summer, but without leaves on all the trees the landscape is only so-so. The ballroom is very pretty, and I liked the bridal getting-ready room, but the entire space was a LOT smaller than I would have thought, and the cocktail hour space is really not big enough for a large wedding.
Airlie: Beautiful grounds and absolutely perfect if you're a rustic country-chic kinda gal, which I am decidedly not. I did like the idea of being able to have an entire wedding weekend in one place (rehearsal dinner, ceremony, reception, next-day brunch), but all of the buildings except for the main house and event pavilion smelled very smokehouse/fireplace-y, which I didn't like.
Hotel Monaco Alexandria: My favorite of the three by far. I LOVE Kimpton hotels and I love Old Town Alexandria, so it was already primed to be a favorite from the get-go. Great, unique decor, with a recently renovated bridal suite that was oh-so-beautiful. BUT the ballroom is kinda small and the pricing puts it at the high-end of our budget. It's still in the running, but I'm trying not to get too attached, haha.
Hard though this may be to believe, I never have really thought of myself as a particularly picky person. I'm the kind of person who never sends things back, who is patient when waiting in long lines, who is pretty understanding when someone is running late or an accident happens. Which is why it's a little weird for me to acknowledge how picky I'm being with this. I fully recognize that it's unreasonable to want it all, but that certainly doesn't stop me from wanting it all the same. I want a super unique venue with great natural light and nice house chairs and linen options and 8-hour rental period and, oh yeah, still falls within my budget.
I know, I'm pretty much the worst.
I'll admit though, it was a pretty good reality check for me to go on my first site visits and not fall head over heels immediately, given how prone I am to get carried away with excitement (shocking, I know). Anything to keep myself slightly more down to earth, right?
And anyway, there is certainly no shortage of great venues in the Metro DC area. Now, great venues that are also affordable might be a different story, but we'll tackle that when we have to, hahaha. Onward!
What was your wedding venue like? Or, if you're not married yet, where do you see yourself getting married?