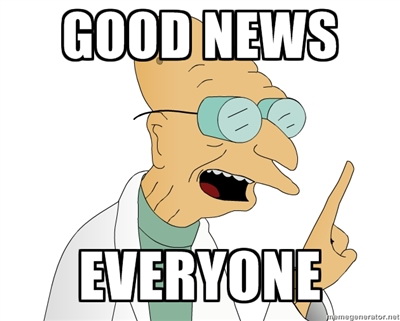 I weighed in this morning, and have some pleasantly exciting news!
So, granted, it's been a while since my last official blog weigh-in. Like… it was before Thanksgiving. Oops. Truth be told, I don't have much of an excuse as to why that is, except for me just really not wanting to. But! I've been keeping vague track of my weight throughout the holidays just to make sure I haven't been going too overboard, and was very pleased to see that I was doing a pretty damn good job of maintaining, without really even trying!
But it's January 2nd, 2013, which means Thanksgiving and Christmas and New Year's have come and they have gone. So, now that the holiday season is officially over (CRY!) I figured I owed you all a real, true, legitimate weigh-in post. Y'know, for posterity and all that. Heeeere we go!
Starting Weight: 246 lbs
Last Weigh-in: 197.1 lbs
This Weigh-in: 198.1 lbs
Difference: +1.0 lb
BOOM! I made it through almost three months of mashed potatoes, cookies, and champagne, only to come through on the other side with one measly little pound gained. Which, c'mon, unless you're a crazy person (well, okay, I often am, but let's ignore that for now) barely even counts as a gain. I gain and lose two or three pounds within in the course of the same day all the time. So I am absolutely counting this as maintenance, which is a decided VICTORY for me over the holidays (especially since last holiday season, I gained over 10 pounds back — whoooooops!).
That said, with the new year does come a renewed and reinvigorated interest in my final weight loss. I really do want to finally (yeah, yeah, I know, that word is so loaded now) get rid of the last linger 15 or so pounds I've been carrying around. I really do think I looked fit, healthy, and happy when I got to 186 back in 2011, so I'd really like to see how I feel once I'm in the low 180s. It's not the 165 that I (arbitrarily) chose at the beginning of this journey, but it really is so close I can almost taste it. So, full speed ahead, eh?
Have you braved the scale yet in this brand new year? Good or bad news? Has it left you motivated or depressed?